Bicycling to Work is Hitting a Higher Gear at UCSF
---
By Robert Hood on May 08, 2018
---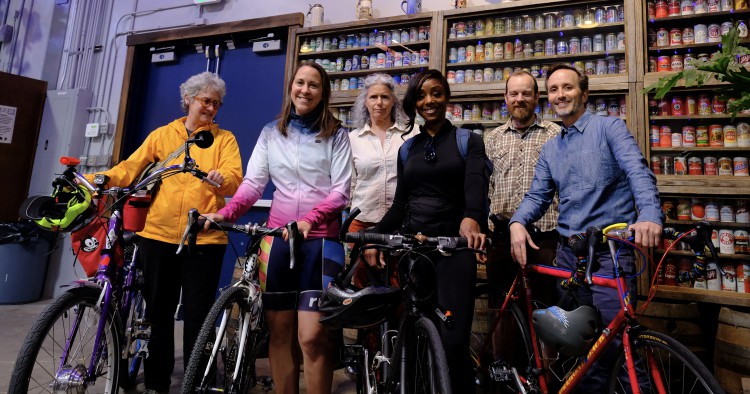 According to the San Francisco Municipal Transportation Agency, an estimated 82,000 bike trips are taken on an average day in the city. John Hamiga, a researcher at the Center for AIDS Prevention Studies at UC San Francisco, is one of those people riding his bike.
Hamiga is also a driving force behind the newly created UCSF Bike Committee, which was formed from the UCSF Bikes! Chatter group started last year. UCSF Bikes! Chatter has 177 members. UCSF Transportation Services worked with Hamiga and others to form the university's bike committee, which has grown to 23 members. Photographed above, from left to right, are Elyse Chiapello, Laura Newman, Kaya Balke, Nichol Fernandez, Alan Paciorek and John Hamiga.
"We promote the bicycle for every day transportation," Hamiga said. "Everyone is welcome to join us."
On Thursday, May 10, Hamiga will serve as the team captain for the morning energy station at 16th and Owens Street on the Mission Bay Campus for this year's Bike to Work Day. He encourages people to stop by on their bike anytime between 7:30-9:30am to pick up a free tote bag full of goodies.
"Our station features a Bike Doctor, who can perform a quick check-up on your bicycle. If you aren't bicycling by Mission Bay, you can check the San Francisco Bicycle Coalition website to find the energizer station nearest you," Hamiga said.
The UCSF Bike Committee is also sponsoring an event at the Mission Bay Farmers' Market on Wednesday, May 23 from 11am to 2pm. It will feature information on bike commuting, snacks, and a chance to meet other university employees who share a passion for biking. "You can sign up for a Commuter Convoy where UCSF colleagues will show newbie commuters the best and safest bike routes to Mission Bay," Hamiga said.
Phillip Kee, rideshare coordinator for UCSF Transportation Services, helped form the UCSF Bike Committee. "Our goal is to promote bicycle culture and share commuting and bicycling tips. We also work with bicyclists to discuss campus resources, infrastructure and bicycle security."
Hamiga said bicycle commuting was a topic at the last UCSF Bike Committee meeting. "We discussed how to bring up bicycle commuting with colleagues," he said. "For committed bicycle commuters it's important to remember what their first bicycle commute was like and to share that experience with others."
The next UCSF Bike Committee meeting will be held at Mission Hall on Thursday, May 17. The committee is also sponsoring a social meet up at Anchor Public Taps, 495 De Haro St., from 4:30-6:30pm on Thursday, May 17 featuring a session on Bike Maintenance 101.
For information on both events or the UCSF Bike Committee, contact John Hamiga.