Facilities Services Continues Popular Campus First Impressions Contest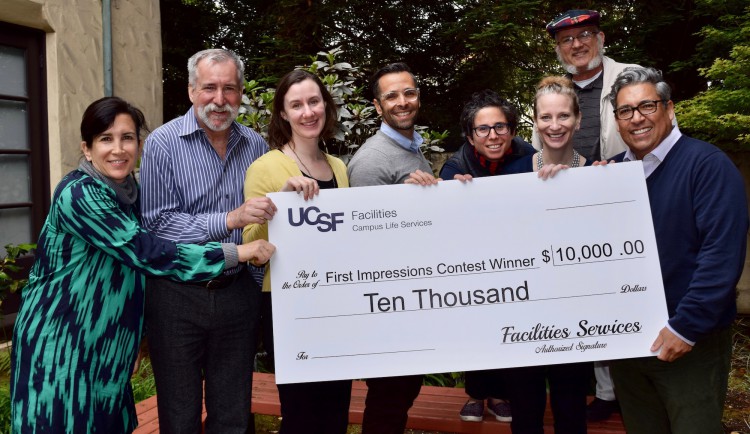 Do you know an area of campus that could use a little sprucing up, maybe some deep cleaning, new carpet, paint, or landscaping? Facilities Services is continuing its popular Campus First Impressions Contest and would like to hear from you.
"I couldn't be more pleased with the campus response to last year's contest," said Jon Giacomi, assistant vice chancellor for Facilities Services. "We had entries from faculty, staff, and students. Interest was so great that we increased the budget to select 12 winners instead of 10."
Last year's winners include the following projects, of which most are now complete or underway: adding color to the School of Nursing stairwell; upgrading the School of Nursing mezzanine; landscaping improvements at the Faculty/Alumni House; improvements to the Millberry Union Food Court; landscaping at the Parnassus entrance off Irving Street; repairing the monument area on 4th Street at Mission Bay; landscaping and new seating at the FAMRI terrace and garden area at Parnassus; new paint and carpets in the Rock Hall conference area rooms 302/304; paving the shoulders on Medical Way near the EH&S Building to provide a walking path; adding furniture to the Rutter Center lobby; landscaping the entrance to the Cardiovascular Clinic at Mission Bay; and upgrading restrooms at Millberry Union.
To enter this year's contest, you can do one of the following:
• Take two to five pictures of the area and submit a written statement on how fixing up this area will enhance campus life at UCSF; or,
• Send a quick video (limited to two minutes) taken on your smart phone and show Facilities Services the area involved and explain how this project will enhance campus life at UCSF.
This contest uses funds earmarked for the campus, so it is limited to campus projects only (UCSF Health space is not eligible).
Entries will be judged based on their overall impact, delivery feasibility, and cost estimate ($10,000 or less). Entries should be for public spaces; private areas or offices cannot be considered. Entries should also demonstrate how they impact student, faculty, staff or visitor first impressions of UCSF.
Submit your entries directly to .(JavaScript must be enabled to view this email address). Entries are due no later than March 2, 2018. Project winners will be announced in April.