Helping the UCSF Community Identify Quality Child Care Since 1990
---
Published on February 13, 2018
---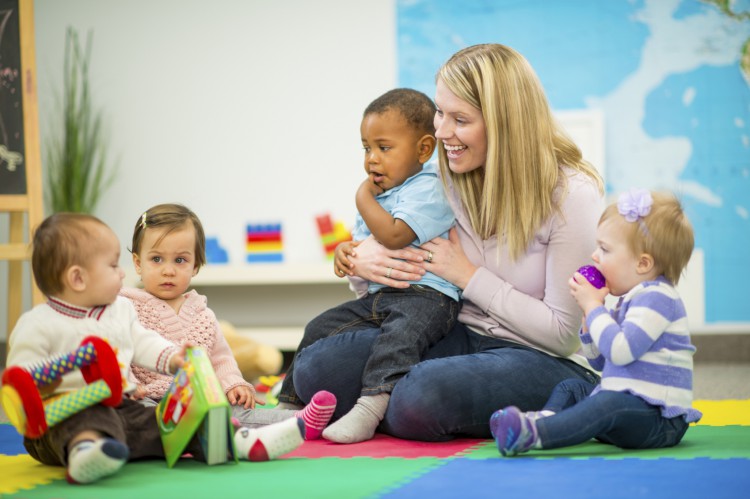 When UC San Francisco students, staff, or faculty need help finding child care, they can turn to the UCSF Child Care Referral Service.
"San Francisco is a difficult market for parents to find child care," said Family Services Associate Director Suzie Kirrane. "Our goal is to save parents time by narrowing their options based on specific criteria."
Kirrane said each referral is individualized. "The complexity of the request can vary. While licensed centers often have websites, many licensed family child care homes do not and it can be difficult for parents to collect and compare basic details about potential providers."
Kirrane said Child Care Referral Service Coordinator Pauline Lee takes the time to gather information from families in order to better understand the type of care they need. "Pauline is a valuable resource for the UCSF community," Kirrane said. "Finding the right child care provider can be a stressful experience and Pauline helps ease some of that stress."
Leesa Cantero, a financial analyst with Facilities Services, said she didn't know where to begin when it came to the process of finding child care. "It was great having someone narrow down my options by price, location, and preferences. I was provided an extensive list with more choices than I could have created on my own."
Cantero said she was contemplating between a licensed center or a licensed family child care home and Lee provided a summary explaining the differences. "With all the information provided, I felt confident that I was choosing the right child care environment for my son. Given my criteria, Pauline compiled options near my home and work." Cantero said Lee provided details for each facility, such as the hours and rates in addition to whether some of the programs had available spaces. "She saved me so much time."
Lee said the quality and experience of family child care homes is broad and varies – each family child care home is unique. When working with parents, she recommends they visit multiple programs if possible, confirm a facility's licensing status and check on complaints by contacting Community Care Licensing and make certain they understand a program's policies prior to enrollment.
Lee said she provides referrals to licensed centers and licensed family child care homes in addition to information on after-school and summer programs and other related services. She also maintains a small bulletin board for nanny/sitter care. The board offers a place for UCSF families to network for share care opportunities. Lee encourages families to post nanny recommendations in addition to share care listings. More postings would facilitate more connections.
Navigating the complexities of the San Francisco public schools is a daunting task for most parents, but Lee can share resources and her experience to help alleviate the anxiety. "In addition to the SF Unified School District, Parents for Public Schools of SF is a great resource for families," she said. "The staff is very knowledgeable and responsive and can assist with questions about the SFUSD application process for transitional kindergarten through high school. Parents for Public Schools can be especially helpful for UCSF employees and others who plan to arrive in San Francisco in the summer and need guidance regarding SFUSD's school assignment procedure and wait pool requests."
Kirrane said Lee also helps parents locate UCSF resources such as the Lactation Accommodation Program, the myfamily.ucsf.edu web directory, and a series of parent education videos that can be useful. "As a parent or parent-to-be at UCSF, you can make one call to Pauline and have a wealth of knowledge and resources at your disposal," Kirrane said.
To enlist Lee's help, UCSF parents simply need to contact the UCSF Child Care Referral Service at 415-476-2692 or email .(JavaScript must be enabled to view this email address). The Referral Service is generally available all day on Monday and Tuesday and Friday mornings.