Bayer Scientist Finds Convenience is the Key to a Good Workout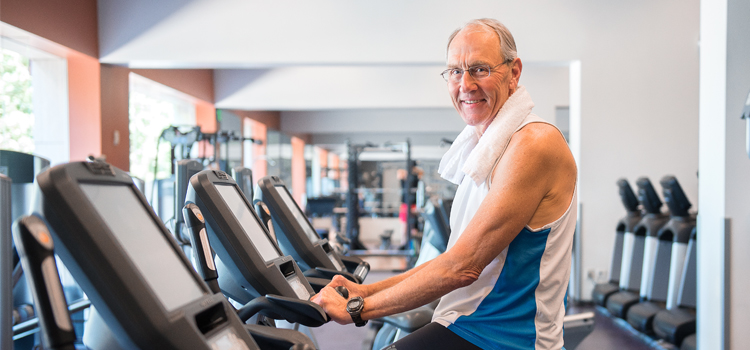 For Alameda's Rick Harkins, convenience is the key to his workouts at the Bakar Fitness & Recreation Center at UC San Francisco Mission Bay.
A principal scientist at Bayer HealthCare working with the company's External Innovation and Alliances group, Harkins is constantly looking for new biotech opportunities. His office is located at Mission Bay, the nation's epicenter for biotech research, and conveniently across the street from the gym.
"It's super convenient," he said. "I'm busy during the week and I don't have a lot of opportunities to leave the office but I can be at the fitness center in about five minutes, get my workout in, and be back for a one o'clock meeting."
Harkins is an avid cyclist and runner and his workout routine is tailored to those sports. He recently finished his first cycling race in Hawaii. "I usually spend my time on the stationary bike and the rowing machine," he said. "I like to row because it helps me build upper body strength."
After 31 years of seniority at Bayer, Harkins is close to retirement but he plans to continue working out at Mission Bay. "It's a short ferry ride from Alameda and, initially, I plan to work half days when I retire. I'll attend meetings in the morning and then work out. My goal is to compete in cycling centuries so I'll remain committed to the stationary bike."