Campus Life Services
From transportation, housing, and business support to child care, entertainment, fitness, building operations and maintenance, and more—for 50 years the businesses of Campus Life Services have touched everyone, at every campus location. In ways great and small, we work hard to help make life better for the people who teach, study, work, and visit UC San Francisco.
Be Healthy at UCSF
From yoga, to farmers' markets and relaxing concerts, Campus Life Services brings you health-affirming services and events to support your healthy life at UC San Francisco.
Locations
UCSF's campuses are located throughout San Francisco. See map below to get a bird's eye view of our locations.
To download a guide of services available at the UCSF Parnassus Campus, click here.
To download the current guide of services available the UCSF Mission Bay Campus, click here.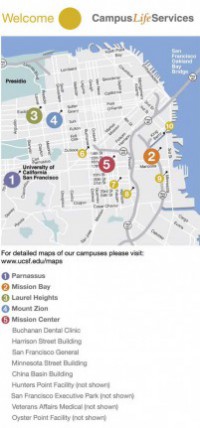 Quick Links
News & Specials
I Am Campus Life Services: Marquita Bowe
For UC San Francisco Journeyman Painter Marquita Bowe,…
Read more >>
I Am Campus Life Services: Tiffany Tsan
Food trucks and potlucks. Tiffany helps feed the success…
Read more >>
Love Your Vendor
Buy a sandwich. Let the music play. Every time you…
Read more >>
Explore
I am Campus Life Services
You may know where to go for a free concert or what…
Read more >>
Follow Us!
Facebook and Twitter - Campus Life Services is on the…
Read more >>