Campus Life Services
From transportation, housing, and business support to child care, entertainment, fitness, building operations and maintenance, and more—for 50 years the businesses of Campus Life Services have touched everyone, at every campus location. In ways great and small, we work hard to help make life better for the people who teach, study, work, and visit UC San Francisco.
Happy October
How's your Halloween costume coming along? Get in the spirit, see what fun events are happening in October on the Arts & Events page, and join us!
On the Go
Some of our favorite mobile apps can help keep your life healthy, informed, and organized at UCSF and beyond. Check them out!
| | |
| --- | --- |
| | UCSF Mobile The UCSF Mobile App keeps you connected to UCSF events, resources, news, and more. |
Campus Life Services Mobile Concierge App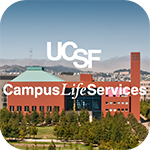 Coming soon: the UCSF Campus Life Services Mobile Concierge app serves up real-time, GPS-enabled services and programs info by UCSF campus site. For Android and iPhone.
Staff Favorites
Adobe Reader Working with PDF files on the go is both free and easy. You can fill out forms, sign documents, and make comments right from your iPad, iPhone, or Android device.
Ride the City Plan your safest and easiest route from point A to point B in 43 cities.
CamScanner Quickly scan paper documents by taking pictures and e-mail the scans as PDF or JPEG.
LoseIt Makes weight loss easy by putting healthier choices in the palm of your hand. Set up your personalized weight loss plan and start losing weight.
Lyft Make sure you never get stranded in the city. Lyft is a sweet new on-demand ride service that's a fraction of the cost of a cab.
NikeTrainingClub Gives you your own personal trainer, anytime, anywhere. Get lean, toned, and strong with more than 85 custom-built workouts.
PandoraRadio Free personalized radio that only plays music you'll love while you work out.
USPS Mobile The United States Postal Service offers ways to manage your mail digitally using mobile solutions.
Waze Meet a fun, community-based GPS traffic and navigation app.
Shared Apps

Coming soon - - -

Quick Links
News & Specials
What's at your campus?
Coming soon: the new Campus Life Services Mobile Concierge…
Read more >>
Love Your Vendor
Buy a sandwich. Let the music play. Every time you…
Read more >>
We Hear You
We are listening. Campus Life Services wants to know…
Read more >>
Explore
I am Campus Life Services
You may know where to go for a free concert or what…
Read more >>
Follow Us!
Facebook and Twitter - Campus Life Services is on the…
Read more >>
Copyright © The Regents of the University of California. All rights reserved.