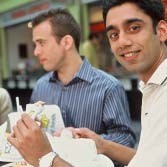 Campus Life Services
From transportation, housing, and business support to child care, entertainment, fitness, building operations and maintenance, and more—for 50 years the businesses of Campus Life Services have touched everyone, at every campus location. In ways great and small, we work hard to help make life better for the people who teach, study, work, and visit UC San Francisco.
Spring Has Sprung
See the Arts & Events calendar for free concerts and other events to put some spring into your life and join us each Wednesday at the farmers' markets and Parnassus and Mission Bay!
Eat & Meet Here
Business meeting or birthday party–plan your next get together with us. Our convenient main campus location is the Millberry Union Event & Meeting Center at Parnassus. Versatile rooms can be conformed to your needs. The Golden Gate Room provides an outstanding view of the Golden Gate and Marin Headlands. Combine it with the City Lights room for a larger event.
The Mission Bay Conference Center has all the space and presentation equipment you'll need to communicate in style. With meeting packages and catering options, we can help you plan a great presentation, party, or event.
Retail Service's restaurants are more than just places to pick up a quick lunch or cup of coffee–they provide convenience, value, and variety to the busy UCSF community. And, a portion of every dollar you spend at a campus vendor helps fund activities, programs, and entertainment to improve your quality of life at UCSF. Visit Retail's dining web page to get a taste of our restaurant offerings and our catering page to see what we can deliver.
Quick Links
News & Specials
The UCSF Campus Store Comes to You
Take advantage of the convenience of shopping in person…
Read more >>
Important Changes to UCSF Shuttles
For your safety, effective October 14, 2013, we require…
Read more >>
Love Your Vendor
Buy a sandwich. Let the music play. Every time you…
Read more >>
Explore
I am Campus Life Services
You may know where to go for a free concert or what…
Read more >>
Follow Us!
Facebook and Twitter - Campus Life Services is on the…
Read more >>