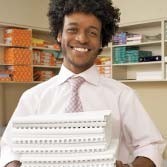 Campus Life Services
From transportation, housing, and business support to child care, entertainment, fitness, building operations and maintenance, and more—for 50 years the businesses of Campus Life Services have touched everyone, at every campus location. In ways great and small, we work hard to help make life better for the people who teach, study, work, and visit UC San Francisco.
Spring into Action
There's so much to do, see, learn, and enjoy at UCSF. Explore all the services, events, and offerings we have for you this semester.
Get It Done Here
At Campus Life Services, some of our services have been created specifically to help you get your work done while you are at UCSF.
For instance, if you're looking for a meeting or conference venue, look to us. Our Conference Services staff is experienced in hosting small and large events at our Mission Bay and Parnassus facilities.
Need your event catered? Retail's Catering Charge Program allows you to charge your catering orders, through participating USCF vendors at various campuses, using your department speedchart. No more check requests and invoice processing!
And, did you know UCSF has its own warehouse, movers, and surplus sales services? Located at Oyster Point in South San Francisco, Distribution, Storage & Mail moves and stores everything from files and records to office furniture to scientific supplies. Learn more about how Distribution & Storage can help you with all of your warehouse, storage, and surplus needs. Mail services are also provided by Distribution, Storage and Mail.
Convenient with competitive prices, Documents & Media is UCSF's on-campus print and design resource. From business cards to mailing lists to web design, see what Documents & Media can do for you.
Quick Links
News & Specials
Buy and Sell Items at Campus Trader
Moving out? Moving in? Need some space? If you're…
Read more >>
Housing Supports Students From Nepal
UCSF Housing Services is immediately putting into effect…
Read more >>
Love Your Vendor
Buy a sandwich. Let the music play. Every time you…
Read more >>
Explore
I am Campus Life Services
You may know where to go for a free concert or what…
Read more >>
Follow Us!
Facebook and Twitter - Campus Life Services is on the…
Read more >>