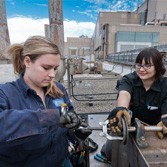 Campus Life Services
From transportation, housing, and business support to child care, entertainment, fitness, building operations and maintenance, and more—for 50 years the businesses of Campus Life Services have touched everyone, at every campus location. In ways great and small, we work hard to help make life better for the people who teach, study, work, and visit UC San Francisco.
Spring Has Sprung
See the Arts & Events calendar for free concerts and other events to put some spring into your life and join us each Wednesday at the farmers' markets and Parnassus and Mission Bay!
A great physical environment leads to great education, research, staff morale, and so much more. We don't just fix what's broken, we look ahead and anticipate the needs of the campus, such as energy efficiency, sustainability, security, groundskeeping, renovations, and of course, cleanliness.
Help is a phone call away. Get it fixed by contacting the Customer Service Center.
Learn more about our many services here.
Quick Links
News & Specials
The UCSF Campus Store Comes to You
Take advantage of the convenience of shopping in person…
Read more >>
Important Changes to UCSF Shuttles
For your safety, effective October 14, 2013, we require…
Read more >>
Love Your Vendor
Buy a sandwich. Let the music play. Every time you…
Read more >>
Explore
I am Campus Life Services
You may know where to go for a free concert or what…
Read more >>
Follow Us!
Facebook and Twitter - Campus Life Services is on the…
Read more >>