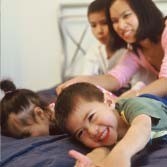 Campus Life Services
From transportation, housing, and business support to child care, entertainment, fitness, building operations and maintenance, and more—for 50 years the businesses of Campus Life Services have touched everyone, at every campus location. In ways great and small, we work hard to help make life better for the people who teach, study, work, and visit UC San Francisco.
Be Healthy at UCSF
From yoga, to farmers' markets and relaxing concerts, Campus Life Services brings you health-affirming services and events to support your healthy life at UC San Francisco.
Live Here
A place to settle into. Room for your family to grow and learn. Our Housing and Child Care Services make being at UCSF feel like…well, like being at home.
Housing Services is proud to be the UCSF provider of modern, competitively priced housing for students, post-docs, faculty, resident interns, and their families.
Our newest facility is a 431-apartment complex at Mission Bay, which is home to the majority of UCSF Housing tenants. Aldea San Miguel is a quiet community, surrounded by a forest and located on a hill above the Parnassus campus, and The Avenue Houses, located on 3rd and 5th Avenues just off Parnassus Avenue, are a great choice for those seeking a single or shared room in a group house or apartment with other UCSF students and post-docs.
The Housing site contains specs, photos, and videos that will give you a better picture of what we offer.
UCSF Child Care provides high-quality early childhood services to over 296 children of University students, faculty, and staff at four award-winning, nationally-accredited centers.
The Marilyn Reed Lucia Child Care Study Center opened more than 20 years ago, and is currently transitioning to accommodate infants and toddlers, while our new Kirkham Child Development Center, also at the Parnassus campus, opened in January 2010 and serves 72 children, ages 24 months to five years.
To read more about each of our centers, and to find our Online Application, visit the Child Care site.
Quick Links
News & Specials
Shuttles Added to Serve Mission Bay's Ridership Growth and Changes
Responding to growing demand and changing passenger…
Read more >>
Café Bellini Reopens in Millberry Union
A newly renovated Café Bellini will feature an expanded…
Read more >>
I Am Campus Life Services: Marquita Bowe
For UC San Francisco Journeyman Painter Marquita Bowe,…
Read more >>
Explore
I am Campus Life Services
You may know where to go for a free concert or what…
Read more >>
Follow Us!
Facebook and Twitter - Campus Life Services is on the…
Read more >>