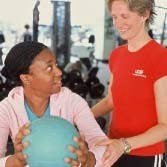 Campus Life Services
From transportation, housing, and business support to child care, entertainment, fitness, building operations and maintenance, and more—for 50 years the businesses of Campus Life Services have touched everyone, at every campus location. In ways great and small, we work hard to help make life better for the people who teach, study, work, and visit UC San Francisco.
Be Healthy at UCSF
From yoga, to farmers' markets and relaxing concerts, Campus Life Services brings you health-affirming services and events to support your healthy life at UC San Francisco.
Play Here
Arts & Events ensures you'll have a good time here at UCSF. Our mission is to strengthen the bonds that make us a strong community, through recognition and celebration for everyone.
Arts & Events provide arts and social programs intended to help everyone on campus strike a balance between work or study and play. As ambassadors of campus culture, we have our finger on the pulse of everything fun, spiritied, and enriching. Visit the Arts & Events site to see what events and discounts are available to you!
Ready to work up a sweat, get a massage, or have a swim? Our Fitness & Recreation Centers have long offered a venue for medical students, staff, faculty and surrounding neighbors to work out and relax. Since 1958, Millberry Fitness & Recreation Center at UCSF Parnassus has offered the community a comfortable environment, including an indoor pool, as well as breathtaking views. Opened in 2005, Mission Bay's Bakar Fitness & Recreation Center features three floors of activities, two pools, and a rooftop climbing wall.
Aquatics, Recreational Sports, and everything in between–run on over to the Fitness & Recreation site to learn more.
Quick Links
News & Specials
Shuttles Added to Serve Mission Bay's Ridership Growth and Changes
Responding to growing demand and changing passenger…
Read more >>
Café Bellini Reopens in Millberry Union
A newly renovated Café Bellini will feature an expanded…
Read more >>
I Am Campus Life Services: Marquita Bowe
For UC San Francisco Journeyman Painter Marquita Bowe,…
Read more >>
Explore
I am Campus Life Services
You may know where to go for a free concert or what…
Read more >>
Follow Us!
Facebook and Twitter - Campus Life Services is on the…
Read more >>