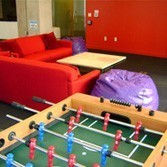 Housing
We provide quality on-campus housing and related services to UC San Francisco students, post-docs, residents, clinical fellows, and faculty. If you prefer off-campus living, browse ads from private landlords or potential roommates. Short-term visitors may view a wide selection of hoteliers near campus locations. Let us assist you with your accommodations in San Francisco.
Spotlight
Mission Bay Tenants: It's the time of year when the package room receives hundreds of boxes a day. Please be diligent in picking up your deliveries!
Community Room Rentals
Got a banquet, conference, event, meeting, presentation or retreat to organize? We can help.
Two great spaces in two convenient locations:
The Aldea Center is a brand new community space near the UCSF Parnassus campus. Located in a serene setting amidst the scenic redwoods on Mt. Sutro, it is a gathering place like no other.
Mission Bay Housing Community Room is a multi-purpose room located on the Mission Bay campus. Conveniently close to Genentech Hall, Rock Hall and the J. David Gladstone Institutes.
Connect with us on Facebook!
Find us on facebook
Quick Links
News & Events
Our Water Conservation Efforts
As you are already aware, California is experiencing…
Read more >>
Need to furnish your apartment? Or need to sell / give away your stuff?
We have a new, FREE, online barter/trading system,…
Read more >>
Calendar