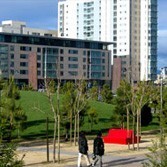 Housing
We provide quality on-campus housing and related services to UC San Francisco students, post-docs, residents, clinical fellows, and faculty. If you prefer off-campus living, browse ads from private landlords or potential roommates. Short-term visitors may view a wide selection of hoteliers near campus locations. Let us assist you with your accommodations in San Francisco.
Spotlight
Mission Bay Tenants: It's the time of year when the package room receives hundreds of boxes a day. Please be diligent in picking up your deliveries!
On Campus Housing
UCSF Housing offers a variety of living spaces at or near our Parnassus and Mission Bay campuses for Students, Postdocs, Residents, Clinical Fellows, and Faculty:
Aldea San Miguel at Parnassus – a quiet community situated on a hill above the Parnassus campus. Aldea is comprised of 1-bedroom and 2-bedroom apartments perfect for couples and families. Aldea also offers 42 Junior 1-bedroom apartments for single occupancy.

Avenue Housing – a great choice for those seeking a single or shared room in a group house or apartment with other UCSF students and post-docs.

Mission Bay – a new 431-apartment complex that is home to the majority of UCSF Housing tenants. Featuring studios, 1-bedroom, 2-bedroom, and 3-bedroom apartments with multiple floor plans, plus an option to rent a single room in a 4-bedroom group apartment.
Faculty Housing – a limited number of unfurnished houses, flats and apartments at the Mission Bay and Parnassus campuses are available to faculty members. The accommodations and amenities vary significantly. We recommend that you contact us directly to discuss the availability of options.

Term Limits
Please be advised that tenants who enter the UCSF Housing Services program and move in after June 1, 2013, will be subject to 2-year term limits in campus housing. After staying in your assignment for 24 months, you will be required to move and find alternative housing accommodations. Term limits are cumulative in a lifetime, regardless of university affiliation or break in tenancy.
Accessible Housing and Disability Accommodations
Applicants with disabilities should indicate this on their Housing Application. Housing Services attempts to make accommodations for qualified applicants. Please see our Accessible Housing Policy.
Explore all of our locations and see what UCSF Housing can offer you.
Connect with us on Facebook!
Find us on facebook

On Campus Rental Prices
Rates as of July 1, 2016
To download a comparison of UCSF Housing rents to San Francisco market rates click here
Also compare UCSF Housing rents to comparable institutions click here.
Quick Links
News & Events
Our Water Conservation Efforts
As you are already aware, California is experiencing…
Read more >>
Need to furnish your apartment? Or need to sell / give away your stuff?
We have a new, FREE, online barter/trading system,…
Read more >>
Calendar