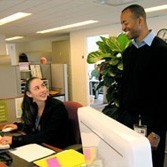 Housing
We provide quality on-campus housing and related services to UC San Francisco students, post-docs, residents, clinical fellows, and faculty. If you prefer off-campus living, browse ads from private landlords or potential roommates. Short-term visitors may view a wide selection of hoteliers near campus locations. Let us assist you with your accommodations in San Francisco.
Spotlight
Mission Bay Tenants: It's the time of year when the package room receives hundreds of boxes a day. Please be diligent in picking up your deliveries!
Resources
We strive to make your experience at UCSF Housing as pleasant and easy as possible. Here you will find general information on policies, eligibility, contracts, summer housing and more.

Eligibility Requirements
Agreements & Contracts
Move In Checklist
Move Out Checklists
Summer Visitor Housing
Forms / Downloads
Renter's Insurance
Accessible Housing and Disability Accommodations
Applicants with disabilities should indicate this on their Housing Application. Housing Services attempts to make accommodations for qualified applicants.
Please see our Accessible Housing Policy.
UCSF Housing Services Missing Persons Policy & Protocol
All tenants will have an opportunity to identify an Emergency Contact Person on their Housing Agreement. This person will also be contacted in the event that the tenant is missing.
Please see the entire Missing Persons Policy & Protocol.

Bike Policy for Current Tenants
Housing Services has implemented a bicycle policy that was designed for the overall safety and protection of your bicycle here on the UCSF Housing property.
Click here to read over the requirements for storing bikes in or near campus Housing areas.

Parnassus Parking Regulations for Current Tenants
Housing Services enforces these regulations at all Parnassus Campus Housing facilities.
Click here
Need a Reference for your Off-Campus Landlord?
If you have been a tenant in UCSF Housing, we can provide your prospective landlord with a reference. Many tenants find this useful, as future landlords will want this to support your application. As part of a
U.S. educational institution, UCSF Housing Services is bound by some federal privacy laws (FERPA). This law requires that you give permission before we can release information about you.
Please turn in this Tenant Info Release if you would like us to speak with anyone about your UCSF tenancy.
Buy, Sell, Trade and Give Away Stuff
We have a new, FREE, online barter/trading system, specifically for UCSF. It's called Campus Trader, it's open to anyone with an @ucsf.edu email account. http://campustrader.tradeaway.com
UCSF Police Department's Campus Security & Personal Safety Booklet
In compliance with the Jeanne Clery Act, the UCPD provides an annual report of campus crime statistics and a Campus Security & Personal Safety booklet.
The annual UCSF Fire Safety Report is at http://www.ehs.ucsf.edu/firelife-safety


http://warnme.ucsf.edu
Quick Links
News & Events
Our Water Conservation Efforts
As you are already aware, California is experiencing…
Read more >>
Need to furnish your apartment? Or need to sell / give away your stuff?
We have a new, FREE, online barter/trading system,…
Read more >>
Calendar