Milestone Event Honors CLS Employees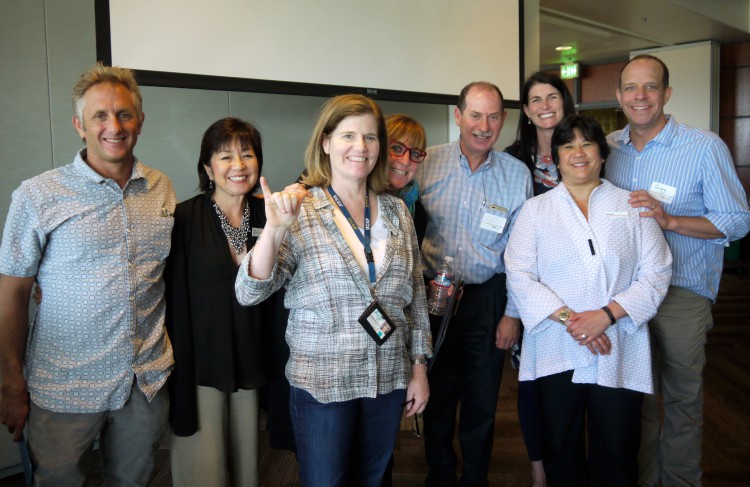 The annual Campus Life Services Milestone Service Awards event, produced by the Campus Life Team, held last week honored employees who have worked for 5, 10, 15, 20, 25, 30, and 35 years with the UC System. The program included a keynote from AVC Clare Shinnerl, lunch and a special surprise video tribute to CLS Executive Director, Gary Forman, who is retiring this year. Supervisors for eight employees who have worked at least 20 years with UC System were asked to say a few words about the awardee. You can find photos of the event in the galleries section at the bottom of the new CLS website.
Here is a list of employees honored at this year's event.
FIVE YEAR'S OF SERVICE
BITUIN,MARISSA PASCO
BOUDSADY,XAYASETH
BROOKS,ANTONIO LARENZO
CALDERON,FABIOLA
CHAU,DANIEL TU
CONNOLLY,DARRIN THOMAS
DELTORO,AUGUSTINE J
DOMINGO,DANTE FRANCISCO
ESTACIO,VIRGILIO S
FARRALES II,WILFREDO SIMON
FLORES,MAYA MORENA
FONG,KWOCK WAH
GALLARDO,CARLOS A
GASH,RODNEY
GIBA,SUSAN ESTELLE
HERNANDEZ,MODESTO A
IBARRA,ELIZABETH ALEXANDRA
IBE,VICTORIO SORIANO
KROL,MARK DAVID
LANDRY,PAUL RYAN
LEW,BENJAMIN MICHAEL
LHUNDUP,THUPTEN
LIN,BAO LING
LIU,HARRISON ANTHONY
MCCALL,JAMES W
MCCARTHY,JESSICA MARIE
MCLAUGHLIN,KIRK ALLAN
MEDINA-REYES,ARTURO
MUNOZ,COLUMBA
NGO,DAN
PARKER,STEVEN R
PENCE,BRADLEY V.
PETROV,LEONARD
PRIAHIN,KONSTANTIN
QUINTANO,GLENA PATIAM
RODDY,JAMES EVERETT
RODRIGUEZ,JACQUELYNN LEE
SCHNIREL,ADAM MICHAEL
SPRINGSTON,GREGORY STEWART
TABOR,DARTAGNON
VALLEDOR,GLENN RAY
VASQUEZ,SALVADOR
VILLANUEVA,ALEXANDER HERRE
WITTY,TERRY LEE
WONG,CHIT NGAI
WU,MEI CI
YEE,TIFFANY ANN
YU,KEVIN HUA
TEN YEARS OF SERVICE
ALOISE,SEAN R
AYALA,CARLA JOAN
BAUTISTA,LIEZL D
BEFFORD,JUANITA
BELTRAN,JOSE H
BERHE,SARAH
BJORKLUND,CHRISTINE AGNES
BULLARD,AMELIE ELIZABETH
BUT LEE,EDITH KWAI FONG
CAMBIER,DANIELLE M
CAPORALE,MONICA MARIE
CARAGAN,MYRNA FERRER
CHAMBERS,ADRIENNE
CHIEM,THU HY
GARLITOS,CARLITO GADDI
GEODZHAYEVA,NANA
GONG,KENNETH
GOULD,(ROSE ANN)
GUTIERREZ,MARTIN
HAIDARY,AMIRA NADIA
HENRY,JON DU AUPURI
HUESTIS,DOUGLAS SCHOELER
JANG,QIAN HONG LIU
JARQUIN,CANDIDO ALBERTO
JIRON,PATRICIA PASTORA
KWAN,WAYNE YEN
LABRADOR,ROGER NIRO
LEE,ALAN W
LEFSON,EMILY A
LI,MEI FEN
LOPEZ,STEVEN M
LOW,JENNY
MAC,JAIME T
MANNIX, JENNIFER
MELARA,MARIA E
MENDOZA,ESTELITA
MEYERHOFFER,KENNETH EUGENE (Ken)
NAGUINLIN,BONG OCAMPO
NICELY,KATHLEEN CLARE
PAREDES,JAVIER C
PORTILLO,RICH EDWARD
QUIDILIG,ROMY ESPIRITU
REGALADO,FERNAND ANDALLO
ROBERSON,MICHAEL OWEN (Mike)
ROMAN,DAVID AL
ROSSETTO JR.,ALDO JOSEPH
SCHACHMAN,DAVID
SILVA,ANGELITO A.
TANG,CHI MING
TIESO,GEORGINA MARGUERITE
TOV,CHHUNLENG
VIDES,CARLOS ALFREDO
WESSER,MARGARET G
WONG,WING YAN C
YAU,ERIC Q
YEE,JOANNA
YU,PETER WANG
FIFTEEN YEARS OF SERVICE
AMADOR,LARDIN A
ASATO,MARIA (LIZA)
BALAIS,BEATRIX C
CHAN,SALLY S
CORTEZ,JOSE ROBERTO
COX,KEVIN M
DEER,PILAR
DOWD,JEN
FOX,JENNIFER
KEYES,ROJMONJATI L.
LACAYO,ROGER D.
LOW,WAI F.
MARQUEZ,YOLANDA
MUNN,MARGARET SEVERANCE (Maric)
NGUYEN,DANH THAN (Sonny)
ORTEGA,PABLO
PRADO-GIBSON,KATHLEEN
RAMIREZ,MARLENE C
RODAS,JOSE RICARDO
SISKIN,STEVE
VAN FLEET,JOSETTE
WEEG,JENNIFER
WOODWARD,DANIEL E
WU,DA YU (Eric)
TWENTY YEARS OF SERVICE
CHAN,LAI KWAN D. (Desmond)
LAU,BURTON M
PALMER,JAMES R
PETERS,VERNON E
TWENTY-FIVE YEARS OF SERVICE
CONVENTO, JOEY
DUONG,HIEN C
OLIVARES,PATRICIA C
THIRTY YEARS OF SERVICE
BABU,WORKENEH B
RAISH,DAVID
THIRTY-FIVE YEARS OF SERVICE
BODEEN,ELAINE G
GEE,DAVID W
MULROY,PATRICK A