UCSF Group Night at the Warriors
---
Published on January 27, 2016
---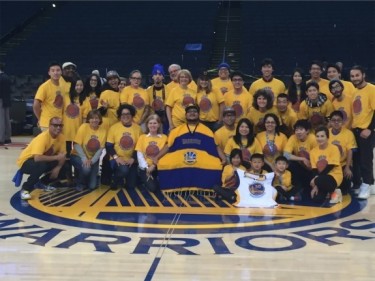 Members of the UC San Francisco community and their families cheered on the Golden State Warriors on Monday, Jan. 25, as they improved their league-best record to 41-4. Tickets for the event sold out in short order.
Group night drawing winners included Rachel Francisco, UCSF Controllers Office/University Development and Alumni Relations and Alex Rodas, Research Project Assistant, San Francisco General Hospital. Francisco receives a custom UCSF #30 Stephen Curry jersey while Rodas receives a signed photograph of Draymond Green.
All UCSF Warriors games have sold out for the 2016 Season. For select additional games, please logon to warriors.com/UCSF. Beginning March 10, Arts & Events will post select San Francisco Giants games for the 2016 season. Please check back on the Arts & Events website for Giants game updates.
Arts & Events provides UCSF with arts, performances, and activities and discount programs and is a department within Campus Life Services. Its mission is to enrich the UCSF campus community through arts, performance, cultural and social events, which highlight diversity, foster social wellness, and celebrate the UCSF Community.