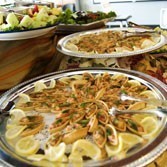 Retail
Retail Services provide on-campus dining, shopping, and banking services to the faculty, staff, and students at UC San Francisco. Our goal is to bring value, convenience, and variety to the UC San Francisco community and enhance the quality of life on campus.
Love Your Vendor
Every time you buy from a campus retailer, your dollars fund activities, programs, and entertainment to improve your quality of life at UCSF.
Cater
Events, conferences, meetings, and celebrations. Breakfast, lunch, dinner, light refreshments, or a buffet reception, our participating UCSF catering partners are ready to serve you. They offer great food and convenient service whether you're hosting your event at Mission Bay Conference Center, the Millberry Union Event & Meeting Center at Parnassus, the Aldea Center on Mt. Sutro, or the UCSF location of your choice.

Easy to Use Catering Charge Program
The Catering Charge Program allows you to charge your catering orders through participating UCSF restaurants at various campuses, using your department Fund/DPA account numbers. A more convenient alternative than processing check requests or invoices, no additional service charges will apply when you use this program.

Catering Charge Program accepted at these UCSF Restaurants
Cafe 24
Cafe Bellini
Caffe Terzetto
Carmelina's Cafe
Carmelina's Taqueria
Jamba Juice
Lunch Stop
Mission Bay Conference Center
Palio Caffé
Publico
Panda Express
Peasant Pies
The Pub
Subway
The View

How to Order?

UCSF Campus Departments
• Prior to placing an order, and to be eligible to charge, departments must read the Catering Charge Program Policy and sign and return the Catering Department Agreement to Retail Services, Box 0234
• Contact a vendor and place your order
• When your order is filled, you will receive a copy of the invoice/receipt with a Catering Charge Form
• Complete Catering Charge Form and keep for your records attached to the original receipt
• Process complete!

UCSF Medical Center Departments
The Catering Charge Program was created to use "speedchart numbers" or "low value P.O." to identify departments to each catering/meeting expense. Since UCSF Medical Center departments do not have speedchart numbers as used by UCSF Campus departments, Retail Services will be assigning an account number to your department. Until your department is assigned an account number, please use your fund and account/DPA number on your catering order form–specify which number is your fund andaccount/DPA. Retail Services will contact you when an account number is assigned to your department.

For more information, please contact us at 415.514.4743 or .(JavaScript must be enabled to view this email address)
Quick Links
News & Specials
Farmers' Market Break
The Parnassus and Mission Bay Farmers' Markets…
Read more >>
The UCSF Campus Store Comes to You
This December, the UCSF Online Campus Store comes to…
Read more >>
Love Your Vendor
Buy a sandwich. Let the music play. Every time you…
Read more >>
At Your Campus
Find Us
Find Us at Your UCSF Location UCSF is a multi-campus…
Read more >>
View Retailers at Your Location
Download a Guide to Campus Retailers. Here you'll…
Read more >>