Retail
Retail Services provide on-campus dining, shopping, and banking services to the faculty, staff, and students at UCSF. Our goal is to bring value, convenience, and variety to the UCSF community and enhance the quality of life on campus.
Food Truck Thursdays!
Every Thursday until June 27, join the food truck lunch party from 11 am-1:30 pm at Mission Bay!
Located on 4th Street @Nelson Rising Lane. Come out and enjoy the tasty options.
Dine
The eateries at UCSF are more than just places to have a quick bite or a cup of coffee, they are destinations where the entire community can meet and relax.

From bagels and burritos to pizza and pot stickers, UCSF Retail Services eateries offer quality food and beverages at affordable prices, conveniently located across the five UCSF locations. Vending machines, at every campus, provide quick snacks and beverages.

And through the "Funding Fun" program, a portion of every dollar you spend at a campus vendor helps fund activities, programs, and entertainment to improve your quality of life at UCSF. Visit one of our establishments today and discover the convenience, value, and variety of dining at UCSF.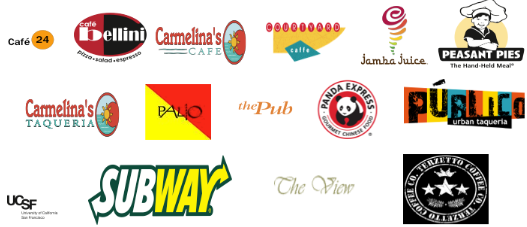 Dine Green—Thanks to UCSF Recycling!

In partnership with UCSF Recycling, Retail Services provides compost, recycle, and garbage stations at all food vendor locations. Our combined efforts not only encourage our campus community to think and live more sustainably, but they also help us achieve UC's system-wide goal to divert garbage waste by 75% in June 2012, and by 100% in June 2020.

UC Recycling's commitment to zero waste by 2020 is much more involved than just getting people to compost and recycle after a meal; they are also "promoting best practices in recycling and waste management throughout UCSF." With a small staff of four, Recycling has made a big impact at UCSF by educating staff, students, and customers, and helping each campus expand sustainability efforts.
Thank you UCSF Recycling for turning our campus—and planet—into a better place to work, learn, and live. Through their example, we're making life better here.
Learn more about the UCSF Sustainability Program and find easy ways to become more sustainable in your office and at home on the Living Green website.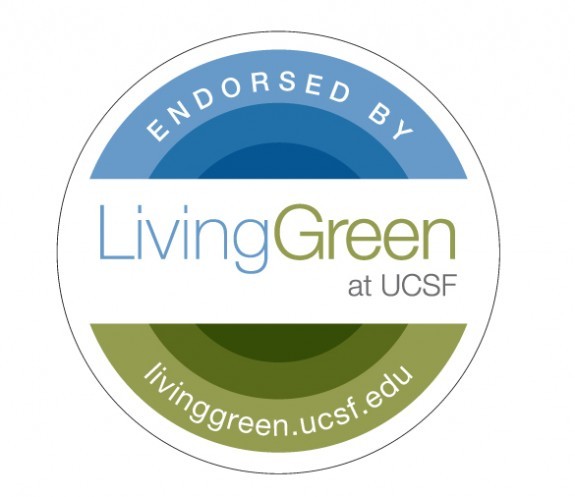 Quick Links
News & Specials
Memorial Day Hours of Operation
We hope you will have a pleasant Memorial Day. Please…
Read more >>
Courtyard Caffe Closure
This summer, UCSF says goodbye to the Courtyard Caffe…
Read more >>
Food Truck Thursdays!
Variety is the spice of life, and we're serving up…
Read more >>
At Your Campus
Find Us
Find Us at Your UCSF Location UCSF is a multi-campus…
Read more >>
View Retailers at Your Location
Download a Guide to Campus Retailers. Here you'll…
Read more >>
Copyright © The Regents of the University of California. All rights reserved.