Retail
Retail Services provide on-campus dining, shopping, and banking services to the faculty, staff, and students at UC San Francisco. Our goal is to bring value, convenience, and variety to the UC San Francisco community and enhance the quality of life on campus.
Love Your Vendor
Every time you buy from a campus retailer, your dollars fund activities, programs, and entertainment to improve your quality of life at UCSF.
The Pub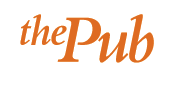 The Pub offers daily specials, hearty entrees, salads, sandwiches, and an array of beverages including smoothies, Peets Coffee, California wines and specialty beers. The Pub provides both cozy ambiance and convenience.


Location
Mission Bay
William J. Rutter Center
1675 Owens Street
Click here for a Mission Bay map.
Menu
Download the menu
Hours
Mon-Fri: 7:30 am-8:00 pm
(Closed Saturday and Sunday)
7:30 am - beverages, morning pastries, hot breakfast items
11:00 am-6:00 pm - hot menu entrees
6:00-8:00 pm - beverages, grab and go salads, and sandwiches

Contact
415.514.4748
The Pub is a Bring Your Own Cup participant. Bring your own cup, order a coffee or tea (up to 16 oz.), and pay for a small cup.
The Pub is a Catering Charge Program participant. To learn more about catering through The Pub and the Mission Bay Conference Center, please visit here.
Credit Cards and FastPay accepted here.
The Pub supports Love Your Vendor at UCSF!
Quick Links
News & Specials
Save the date to celebrate at Mission Bay!
Wednesday, October 8, 2014 12:00-2:00 pm 550 Gene Friend…
Read more >>
The Winning Choice for Your Event
What's better than having an awesome event at a beautiful…
Read more >>
Introducing America to Go Catering
Campus Life Services Vendors in America To GoandCLS…
Read more >>
At Your Campus
View Retailers at Your Location
Download a Guide to Campus Retailers. Here you'll…
Read more >>
Find Us
Find Us at Your UCSF Location UCSF is a multi-campus…
Read more >>