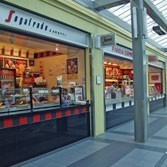 Retail
Retail Services provide on-campus dining, shopping, and banking services to the faculty, staff, and students at UCSF. Our goal is to bring value, convenience, and variety to the UCSF community and enhance the quality of life on campus.
Food Truck Thursdays!
Every Thursday until June 27, join the food truck lunch party from 11 am-1:30 pm at Mission Bay!
Located on 4th Street @Nelson Rising Lane. Come out and enjoy the tasty options.
Lease
UCSF, the second largest employer in San Francisco, with nearly 22,000 employees and 4,000 students, presents a unique opportunity for prospective vendors to serve a consistent yet diverse market of university students, faculty, and staff, as well as the general public. The University is home to several Nobel Prize winners, groundbreaking medical and scientific research, and ranks among the nation's top medical schools and medical centers.
Retail Opportunities
We're always looking for promising partners. If you are interested in joining UCSF Retail as a vendor, please fill out this Retail Services Application online form. We will send you our press kit when opportunities become available. For more information, e-mail .(JavaScript must be enabled to view this email address). For information on our current opportunities, please see below:
UCSF Parnassus Business Opportunity Notice
• Proposals due Friday, May 3rd 2013
• Q&A Sheet
About UCSF
The University of California, San Francisco is a leading university dedicated to defining health worldwide through advanced biomedical research, graduate-level education in the life sciences and health professions, and excellence in patient care. The roots of this public health sciences university, dedicated to saving lives and improving health, can be traced in San Francisco to the 1864 establishment of the Toland Medical College, which nine years later would become the Medical Department of a then fledgling University of California across the bay. The rest is history–one of discovery, innovation, and public service.

Did you know?
• Researchers at UCSF developed gene-splicing techniques that have revolutionized biology, spawned the biotechnology industry and led to life-saving treatments
• Some 25,000 doctors, nurses, dentists, pharmacists, and scientists have graduated from UCSF, whose schools are ranked among the top in the nation
• UCSF, including its medical centers at Parnassus and Mount Zion, and its affiliated hospitals, San Francisco General Hospital, and the VA Medical Center, handle more than one million patient visits a year
• In 2003, UCSF opened its 43-acre Mission Bay campus south of downtown San Francisco; UCSF Mission Bay, the largest biomedical university expansion in the country, will double UCSF's research space and speed the pace of biomedical discovery
• UCSF is on the verge of transforming health care through its clinical enterprise, which looks to build a new, $1.68 billion medical center at Mission Bay for children, women, and cancer patients by 2014 (ucsf.edu)
Quick Links
News & Specials
Memorial Day Hours of Operation
We hope you will have a pleasant Memorial Day. Please…
Read more >>
Courtyard Caffe Closure
This summer, UCSF says goodbye to the Courtyard Caffe…
Read more >>
Food Truck Thursdays!
Variety is the spice of life, and we're serving up…
Read more >>
At Your Campus
Find Us
Find Us at Your UCSF Location UCSF is a multi-campus…
Read more >>
View Retailers at Your Location
Download a Guide to Campus Retailers. Here you'll…
Read more >>
Copyright © The Regents of the University of California. All rights reserved.