Retail
Retail Services provide on-campus dining, shopping, and banking services to the faculty, staff, and students at UC San Francisco. Our goal is to bring value, convenience, and variety to the UC San Francisco community and enhance the quality of life on campus.
Love Your Vendor
Every time you buy from a campus retailer, your dollars fund activities, programs, and entertainment to improve your quality of life at UCSF.
Walgreens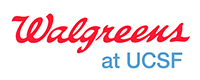 Walgreens, located in the Millberry Union at the Parnassus Campus, has a full-service pharmacy offering personalized care and a comprehensive range of medications, including over the counter (OTC) and specialized medications for complex health conditions. Learn more about UCSF and Walgreens working together to manage prescriptions in this SFGate article.
Travel consultations and vaccinations are also available. For more information, download the flyer and speak with a Walgreens at UCSF pharmacist today.

Location
Millberry Union, 500 Parnassus Ave., Floor 1
Room MU145
San Francisco, CA 94143
Click here for a Parnassus map.

Hours
8:30 am-8:30 pm (Mon-Fri)
9:00 am-5:00 pm (Sat & Sun)

Contact
ph. 415.681.3394
fax: 415.681.3984

Walgreens supports Love Your Vendor at UCSF!
Quick Links
News & Specials
Ladle & Leaf's locally sourced fare breathes new life into old UCSF gathering place
In December, Ladle & Leaf, an evolution of San…
Read more >>
UCSF Campus Store Opens in Millbery Union
A new 900-square-foot UC San Francisco Campus Store…
Read more >>
Healthy Beverages for a Healthy Campus!
Beginning July 1, 2015, UCSF will begin to only sell…
Read more >>
At Your Campus
View Retailers at Your Location
Download a Guide to Campus Retailers. Here you'll…
Read more >>
Find Us
Find Us at Your UCSF Location UCSF is a multi-campus…
Read more >>