Utilities & Infrastructure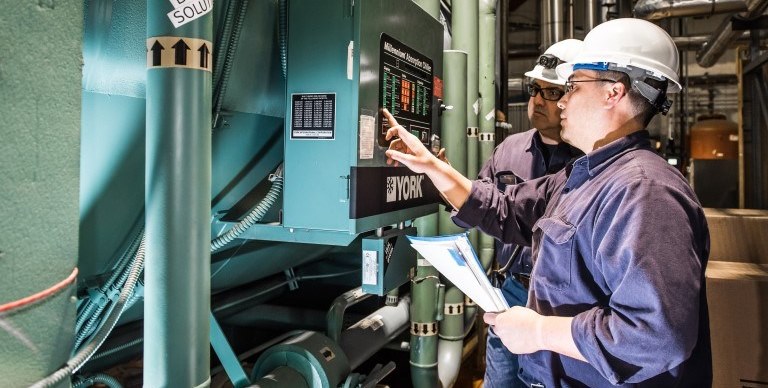 Jesse Kanemoto and Alex Palma, Central Utilities Plant Engineers
Efficiency is our job. UCSF is a leader in the generation and use of efficient energy systems. At the center of this effort is the central power, heat, and chilled water plant on the Parnassus campus which, combined with the university's district heating, provides high overall efficiency and reduced utility costs for UCSF. Facilities Services manages these utilities and can help you with your utility needs:


Energy Management
UCSF's Energy Management program strives to deliver reliable utilities (electricity, hot water, chilled water, steam, etc.) while minimizing our purchased utilities cost and reducing our campuses greenhouse gas emissions.
Please check back soon for more information on Energy Management projects and initiatives.
Building Automation and Controls
Building Automation Systems work behind the scenes in all buildings to automatically adjust temperature, ventilation rates, fans, pumps, boilers, chillers, and other equipment. UCSF's Building Controls and Automation group ensures that our control systems are operating safely and efficiently. They also have a primary initiative to modernize the automation systems throughout our campus.
Please check back soon for more information on our Building Controls and Automation group.
Engineering
UCSF's mechanical and electrical engineers work behind the scenes to provide technical expertise to operations staff, improve our energy efficiency, deliver design services for internal renovations, and perform design reviews for new construction and major renovation projects.
Please check back soon for more information on our Engineering team.


---
Questions? Contact the Customer Service Center at 415.476.2021.